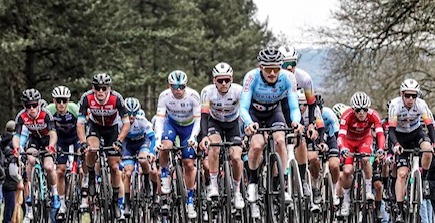 Kaden Hopkins and his Vendee U teammates had a very successful race in France, as they won the Manche Atlantique 160-kilometer Road Race.
This was a special victory for them and one that was a priority for the season in memory of one of the Vendee U riders 23-year-old Romaine Guyot who won the race in 2016 and was killed days later in a collision with a truck when riding.
Hopkins was extremely happy with his performance, as the team plan was to ride and protect two riders for the win, Antoine Huby and Baptiste Vadic. In a fast and attacking 160k race Vendee U followed team plans to perfection with Vadic taking the victory and chalking up another win for the professional TotalEnergies Development team. Hopkins crossed the line in 20th place.
Hopkins said, "I just returned from a solid 12-day training block in Alicante, Spain and despite putting in a lot of hours in the saddle, I felt amazing today. I was covering a lot of moves with my teammates all day and i felt in control the whole time. I honestly feel this was one of my best-ever performances and for us to take the win made it all worthwhile." he added " This was a great Team performance. This race means so much to Vendee U and I was so happy that Baptiste got the win and that I played my part".