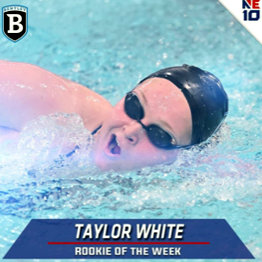 Freshman Taylor White was among the members of the Bentley University Swimming and Diving teams who were recognized by the Northeast-10 Conference this week. White was named the Northeast-10 Conference Female Rookie of the Week.
In addition, White and seniors Dariana Gonzales, Marissa Adamo, and Kate Galvin were named the Women's Relay Team of the Week.
White was unbeaten in five individual races. She was first to the wall in the Women's 1000 Yard Freestyle (10:59.65), the Women's 200 Yard Backstroke (2:12.11), and the Women's 100 Butterfly (1:02.02) against St. Michael's and took first in the Women's 200 Yard Freestyle (1:59.78) and the Women's 400 Yard Individual Medley (4:49.08) against Adelphi. In addition, she was part of Bentley's winning Women's 200 Yard Free Relay (1:43.76) against the Purple Knights and was part of a Women's 200 Yard Medley Relay team that was second (1:59.54) against Adelphi.
During the week, she posted the conference's fourth-best times of the season in the 1000 Freestyle and 400 Individual Medley, the fifth-best in the 200 Backstroke, and the eighth-best in the 200 Freestyle.