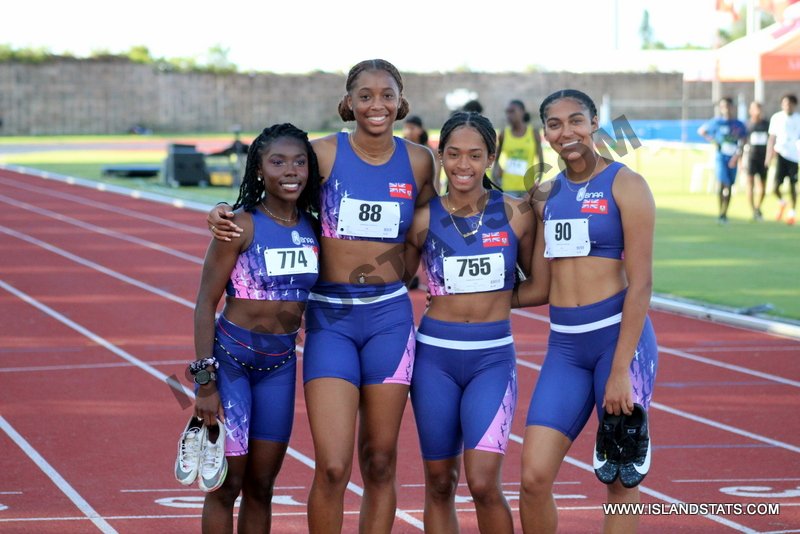 Following the conclusion of the Bermuda National Track and Field Championships, wwww.islandstats.com can report the Division Champions.
Caitlyn Bobb won the 17-19 Female Division with 20 points after she won the 100 & 200m races, Shayla Cann was second in the Division with 10 points, while ZaíKayza Parsons, and Keturah Bulford-Trott finished tied third with 8 points each.
Razi Garland claimed the 17-19 Male Division title with 20 points, Saj Carey finished second with 18 points, while Jayson Simons finished third with 16 points.
In the 12-14 Female Division, Kelise Wade, and Ellise Dickinson finished on top with 20 points each, there was also a tie in the 15-16 Female Division with JíNaz Richards, and Breynia Darrell finishing with 20 points each.
9 & Under Female Division

30 Solae Goater
24 Yara Muhammad
22 Mylah Desilva
17 Dayah Dill
14 Teagan Scott-Hanley
9 & Under Male Division

18 Khaleef Daley
06 Gebre Vickers
10-11 Female Division

23 Zakhya Scott
22 Riana Robinson
20 Leydi Raynor
18 Sukanya Johnson
18 Jasmine Reid-Rubaine
11 Zaylee Lawrence
07 Zaria Codrington
10-11 Male Division

38 Dunstan De Sa
28 Timothy Pearman
20 Chavi Pacheco Hill
16 Jayden Perinchief
14 Legend Burrows-Robinson
08 Ronan Davidge
06 Asíad Muhammad
12-14 Female Division

20 Kelise Wade
20 Ellise Dickinson
16 Pria Wilson
16 Amaris Munya
14 kalila Daley
13 Arima Turner
13 Dayasha Dill
09 Zyari Lawrence
09 Lashee Jones
04 Milan Gibbon-Thomas
12-14 Male Division
20 Malik Paynter
19 Charles Fox
16 Luca Bortoli
16 Tobiah Goodchild
14 Jeon Wolfe
14 Andre-Chealay Hollinsid
10 Cameron Adkins
10 Alejandro Brown-Rogers
08 Dayzye Dill
05 Dashaun Smith-Davis
15-16 Female Division

20 JíNaz Richards
20 Breynia Darrell
16 IíAura Golding
16 Christia Lugo
16 Zenji Washington
10 Fenella Wightman
08 Daria Desmond
06 Carina Bortoli
15-16 Male Division

20 Tajahri Rodgers
20 Denver Tucker
18 Szaine Williams
16 Seer Carey
12 Joshua Watson
17-19 Female Division

20 Caitlyn Bobb
10 Shayla Cann
08 ZaíKayza Parsons
08 Keturah Bulford-Trott
06 Sanna Morris
06 Jahstice Grant
05 Sanya Lightbourne
17-19 Male Division

20 Razi Garland
18 Saj Carey
16 Jayson Simons
10 Nirobi Smith-Mills
10 Tajai Goater
08 Sancho Smith
08 Daiquan Trott
20-29 Female Division

10 Tiara DeRosa
20-29 Male Division
20 Dage Minors
18 Stephan Dill
10 Sadiq Nurse
10 Suresh Black
10 Antonio Bailey
30+ Division

10 Lamont Marshall