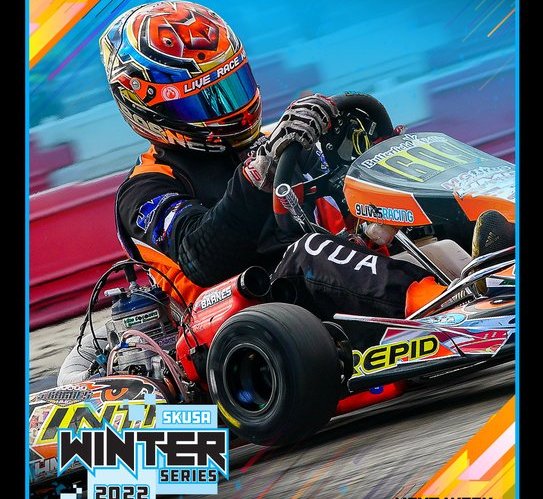 Scott Barnes, Brian Bulhoes and Blake Horseman are in Florida competing in the SKUSA Winter Series.
The Series season opener is taking place at the AMR Homestead-Miami Motorplex presented by MG Tires facility in Homestead, Florida.
Barnes competing in the Pro/Mas Shifter Class would finish with the fastest Qualifying time of 47.767, Barnes would then win the Pre-Final race with a ten lap time of 7:44.220, in the Final, Barnes was leading after 7 laps, however the motor let go thus bringing an end to his hopes of sweeping the class for the day.
Horseman competing in the X30 Senior Class would finish 36th in the Qualifying race clocking 49.880 as his fastest lap. In the Pre-Final race, Horseman would compete the 10 lap race in a time of 8:26.089 to finish 31st. In the Final Horseman finished 27th clocking a 20 lap time of 16.12.673.
With a time of 54.496 saw Bulhoes competing in the KA100 Senior Class finish the Qualifier 21st. Bulhoes would then not start the Pre-Final race. Bulhoes did get his kart out for the Final, but he was only able to complete 14 of the 20 laps race.