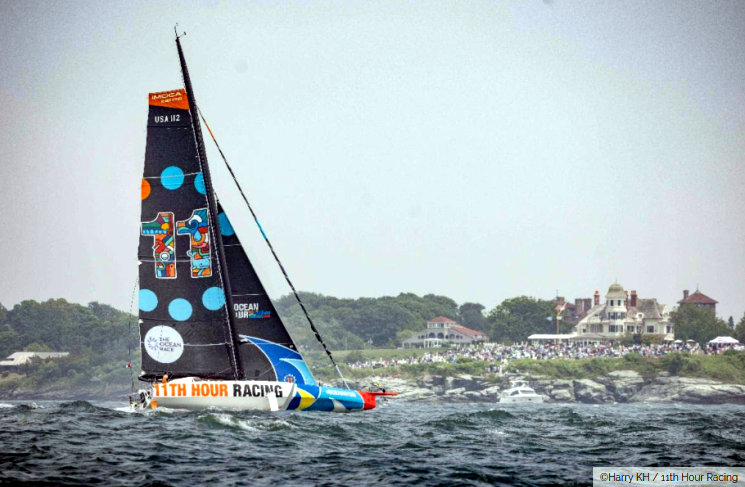 At 2:20 pm Bermuda Time, 11th Hour Racing Team crossed the start line for the 52nd edition of the Newport Bermuda Race. As the only entry in the Open Division, the team will take on the 635-nautical mile race to their final destination – Bermuda – in its first major race of 2022.
The crew consists of Skipper Charlie Enright (USA), Justine Mettraux (SUI) and special guests big wave surfer Ian Walsh (USA) and backcountry snowboarder Elena Hight (USA), alongside Media Crew Member Amory Ross (USA).
At approximately 5:42 pm, Christopher Stanmore-Major's Gran Mistral 80 Osprey entered the course of the Newport Bermuda Race and drew to a close one of the most unusual starts to the race in recent memory.
The first classes started in a 22-knot southwesterly in a ripping ebb tide, followed by a brief influx of dense fog, a period of sunshine, and then a line of soaking thunderstorms that halted the starting procedure. By the time the last three classes got underway on the backside of the line, the last classes could barely get across the starting line. Fortunately, the ebb tide out of Narragansett Bay was still pushing the fleet toward Bermuda.
"Overall, those were some of the best conditions I've seen for the start in the last five or six Bermuda Races," said Clare Harrington, the principal race officer for the start of the race and the Rear Commodore of the New York Yacht Club. "Having all that wind at the beginning from the southwest was spectacular. I think it was ideal conditions. When that front came through it was a little dicey. I don't recall ever having to put the start on hold like that to let that thunderstorm go by. That was new."
Antoine Rabaste's (Nimes, France) VPLP 80-foot trimaran Ultim'Emotion2 took the early lead in the race for line honors, but at approximately 1900 hours reported to the Bermuda Race Fleet Communications that it had dropped their rig. Initial reports were that all crew were reported well.