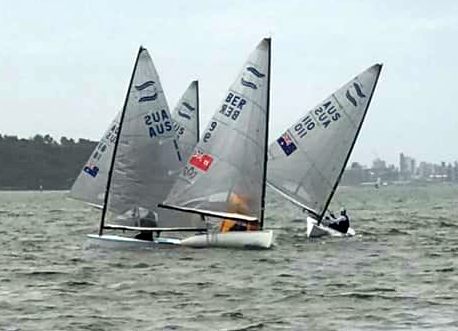 Evans Leading the Fleet
IslandStats.com
Rockal Evans concluded competing in the 2022 NSW Finn State Championships in Australia.
After two more races were completed to take the series to eight races, Evans would come off the water in 3rd place after starting the day 4th.
Evans won the first race of the day and the 7th of the series, he would cross the line 3rd in the second and last race of the regatta for his 26 Net Points.
Anthony Nossiter sailed to victory, Nossiter had finishes of 4th in the first race of the day, 4th in the second race, for his 20 Net Points.
Rob McMillan finish 2nd overall with 22 Net Points, this after finishes of 3rd, and 1st.
Speaking to www.islandstats.com following the event Evans said, "It was a good event for three days of light and shifty wind conditions so very tiring on the mental game but not too tiring on the physical game.
The first two days I wasn't too consistent and then the last day I never finished out of the top three so very consistent to finish the regatta strong.
The person that was in second place overall had a really bad last day so he went from second and fourth and that popped me up on the podium, very happy with my result."