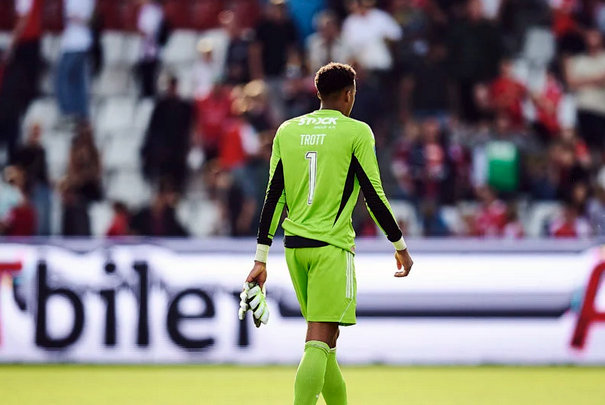 One player has just opened up on his dream to play for the West Ham United first-team at some point.
West Ham boss David Moyes has an incredibly talented first-team squad at his disposal now, so itís not always straightforward for young players to break through into the side.
Nathan Trott will know all about that. Heís 24 now, believe it or not, nearly 25 in fact! And he has only played seven minutes for the Hammers first-team Ė an FA Cup substitute appearance against Doncaster in 2021.
He has spent loan spells away from the club with AFC Wimbledon and Nancy Ė where he really impressed, winning a player of the month award with the French club.
Trott is now in the midst of a season-long loan with Danish side Vejle BK, and is out of contract with West Ham in the summer. However, he still hasnít given up on making it with the club he has been with since he was just 17.
Trott has been speaking to Danish outlet Bold about his current situation with Vejle and potential future with the Hammers.
And the goalkeeper admitted that he still harbors ambitions of playing for the West Ham first-team.
I have to say, thatís really wishful thinking from Trott, although in fairness to him he does seem to acknowledge the fact that his wish might not happen.
Considering the fact that heíll be 25 in just a couple of weekís time, his chances of playing in the Premier League are surely very slim indeed. Thatís in spite of the fact that goalkeepers donít usually hit their prime until 30 at the very least.
Trott could still forge a solid career for himself, whether that be in Denmark or in the lower leagues in England.
Trott said, ďThe season is still young, and a lot can happen this summer. Iím just trying to focus on Vejle and Iím very happy here. I enjoy playing football here and I enjoy the time with my teammates and the coaches. It has always been my goal to play for West Ham. Iíve been playing there since I was a kid. So thatís my dream, but I donít know what might happen this summer. So I just have to focus on Vejle, and thatís what Iím doing.Ē