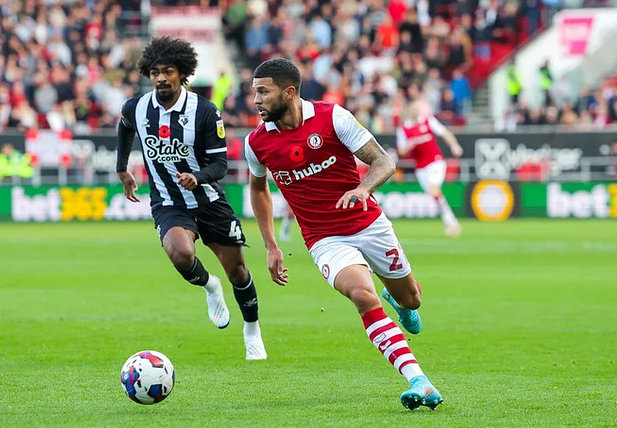 Nahki Wells
Nahki Wells and his Bristol City were denied an opening day win by a Will Keane equalizer in the 86th minute.
Sam Bell opened the scoring two minutes after half-time but it sparked the visitors into life and Keane levelled the scores as the clock ticked down.
Dale Eve
Dale Eve and his Alvechurch FC teammates traveled to Hitchin Town to get their 2023/2024 Pitching-In Southern Central Premier Division campaign underway, but they came up short falling 2 – 0.
Justin Donawa
Justin Donawa and his Altrincham FC teammates suffered late heartbreak in their 2023/24 National League opener, as a 98th minute equalizer from Dagenham and Redbridge saw them draw 1-1 in their first game of the season.
Chris Conn-Clarke scored a well-worked goal for Altrincham FC, only for it to be canceled out late into stoppage time, ensuring that the points were shared between the two sides.
The Altrincham FC goal saw an excellent header from Donawa, excellent touch from Dior Angus, and excellent finish from Conn-Clarke.
Reggie Lambe
Reggie Lambe and his Braintree Town FC teammates kicked off the VNLS season with a long journey south to Taunton Town FC.
Lambe came off the bench in the second half, but he could not prevent Braintree Town from falling 2 – 1.
Kole Hall
Kole Hall and his Chester Football Club teammates were defeated 2 – 0 on the opening day of the 2023/24 campaign, ending their unbeaten away run from last season, at the hands of Bishop's Stortford.
Late strikes from Ayo Shogbeni and Ryan Charles secured the win for the newly-promoted hosts.
Milan Butterfield
Milan Butterfield and is Nuneaton Borough FC teammates opened the 2023/24 season with an away trip to newly promoted Berkhamsted at Glencar Community Stadium, and went down 2 – 1.
Ayleal Dill & Mazhi Simmons
Mazhi Simmons started, while Ayleal Dill was an unused substitute for Kimberley in their FA Cup match against Eastwood.
After a scoreless first half, Eastwood would run away winners 3 – 1.