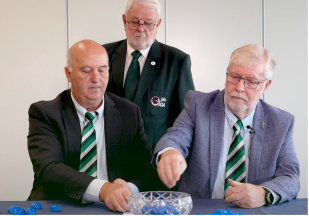 The football draws for the Guernsey 2023 NatWest International Island Games has taken place.
The draws were held after consultation with Ricky Weir, chair of the football Technical Committee for the IIGA, and were made by Chris Schofield, Guernsey Football Association Chair, and Martyn Banton, GFA Vice Chair, and overseen by Brian Allen from the Guernsey 2023 Organizing Committee.
MEN'S FOOTBALL TOURNAMENT

Group 1
Guernsey
Western Isles
Åland
Isle of Wight
Group 2
Isle of Man
Ynys Mon
Falkland Islands
Shetland Islands
Group 3
Greenland

Bermuda
Froya
Orkney
Group 4
Menorca
Jersey
Gozo
St Helena
WOMEN'S FOOTBALL TOURNAMENT

Group 1
Jersey

Bermuda
Hitra
Åland
Group 2
Isle of Man
Isle of Wight
Menorca
Group 3
Guernsey
Ynys Mon
Western Isles
Full details of fixtures will be issued when we release the full program of events.
The Football Community in Guernsey is looking forward to the 2023 Games football tournament, with excitement building now that the draw has been made. Everyone is aware of the growing popularity of the women's game, particularly following England's success in the Euros last year, and we look forward to welcoming the 9 visiting women's teams, along with the 15 visiting men's teams, for what we anticipate will be very competitive competitions.