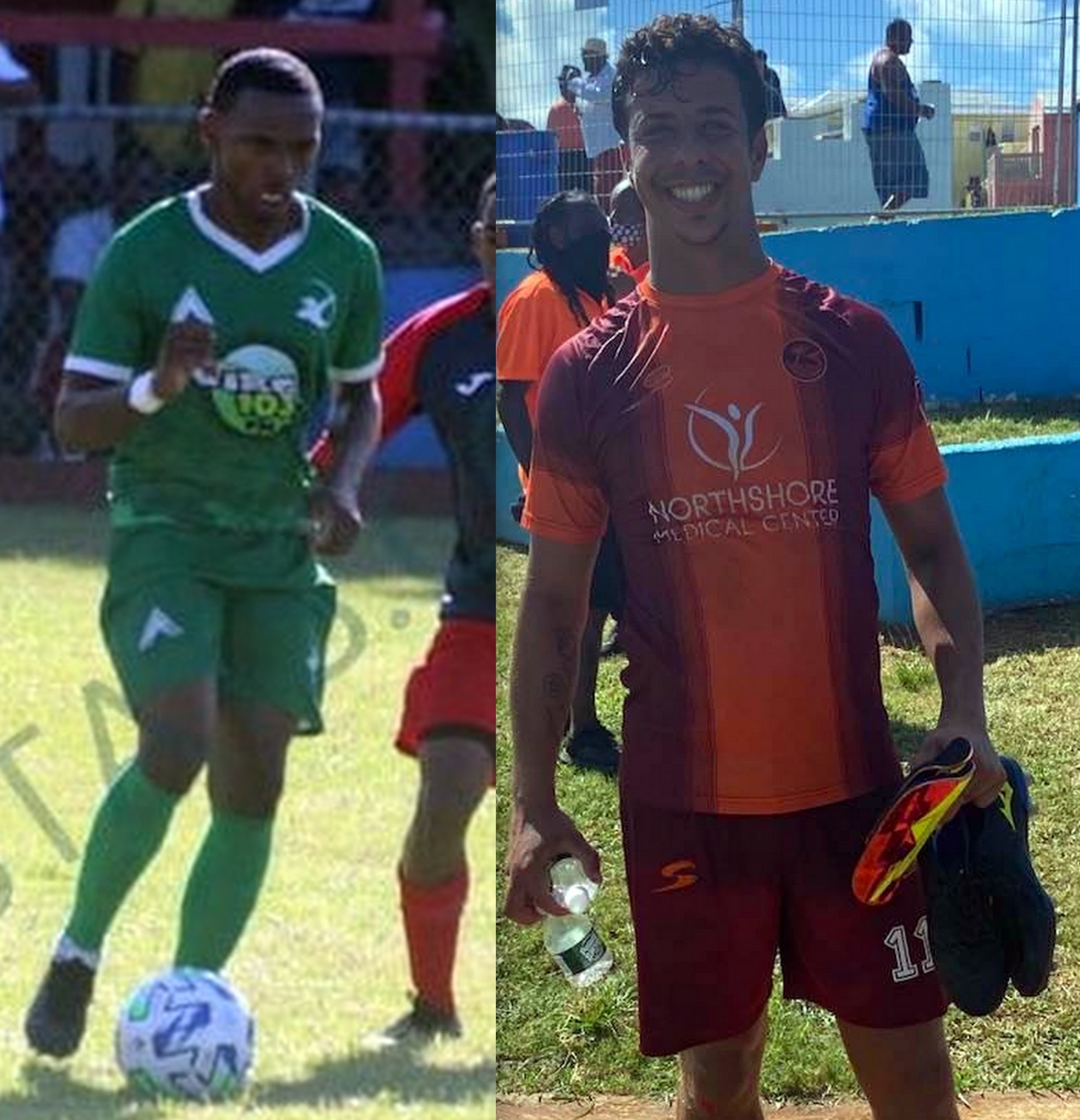 Tomiko Goater & Jordan Outerbridge
IslandStats.com
After the first three rounds of Premier and two of First Division matches, www.islandstats.com takes a look at the current standings and leading goalscorers in each Division.
The Premier Division currently has two teams on 9 points, but goal difference separates them, Robin Hood has a difference of 10, while the North Village Rams have a difference of 4. Devonshire Cougars, Dandy Town Hornets, and the Somerset Trojans all have 6 points.
Tomiko Goater from Robin Hood is the early Premier Division leading goalscorer with 3, with eight players tied for second with 2 goals.
Two teams in the First Division have 6 points, with Hamilton Parish leading on a goal difference of 11, while the Boulevard Blazers have a goal difference of 5, Young Men Social Club is in third with 3 points.
Jordan Outerbridge from Hamilton Parish has scored 7 times in two matches to lead the league in scoring, with Enyche Zuill from the Boulevard Blazers in second with 3 goals. Three other players are locked on 2 goals each.
PREMIER DIVISION STANDINGS

09 Robin Hood
09 North Village Rams
06 Devonshire Cougars
06 Dandy Town Hornets
06 Somerset Trojans
03 Southampton Rangers
03 St. George's Colts
01 Devonshire Colts
01 PHC Zebras
00 Somerset Eagles
00 X-Road's
PREMIER DIVISION LEADING GOALSCORERS

3 Tomiko Goater - Robin Hood
2 Ereico Outerbridge - Robin Hood
2 Jaizel Smith-Deshields - North Village Rams
2 Laquan Thomas - Devonshire Colts
2 Enrique Russell - PHC Zebras
FIRST DIVISION STANDINGS

06 Hamilton Parish
06 Boulevard Blazers
03 Young Men Social Club
01 St. David's
01 Ireland Rangers
00 Wolves
00 Flanagan's Onions
00 Vasco
FIRST DIVISION LEADING GOALSCORERS

7 Jordan Outerbridge - Hamilton Parish
3 Enyche Zuill - Boulevard Blazers
2 Shayne Hollis - Hamilton Parish
2 Che Lindo - Hamilton Parish
2 Teh-Kai Taylor - Boulevard Blazers
Picks Leaderboard

9 Naquita Robinson
9 Earl Basden
8 Maceo Dill
8 Garret Dill
8 Denika Gibbons
Click Here to see the
Full Bermuda Football Associationís Premier & First Division Standings and Leading Goalscorers