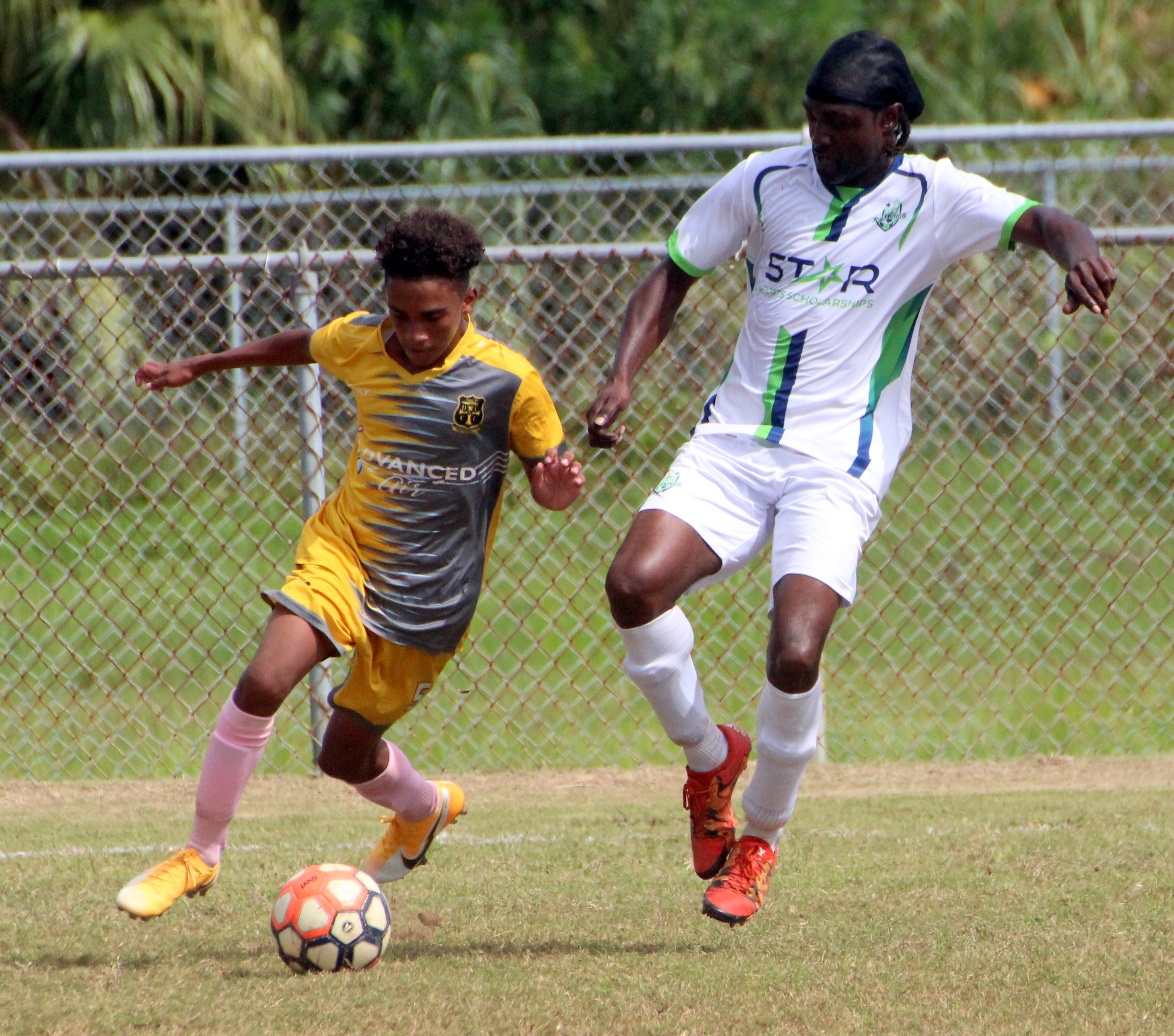 St. David's - Footy Kings
IslandStats.com
FA CHALLENGE CUP PRELIMINARY ROUND

St. David's 2 Footy Kings 5Click Here to see
Pictures of FA Cup Preliminary & Premier Division October 11th 2020
At Bernard's Park, Corona League outfit Footy Kings defeated First Division promotion hopefuls St. David's 5 – 2.
Footy Kings got two goal from Ralph Bean and Marcus Johnson and a single strike from Aquino Grant, while St. David's got single strike from Zachary Morris and Keijon Butterfield.
Boulevard Blazers 3 Vasco 4
Vasco got revenge on the Boulevard Blazers picking up a 4 – 3 win, after falling to the same team 3 – 1 a week ago. Ryan Lopes led Vasco to victory with a hat-trick, with Anthony Dascosta netting the winner, while the Boulevard Blazers got single strikes from Rico Wells, Jason Symonds and Tyrone Oswald.
Young Men Social Club 4 Wolves 2
At the Police Field, Young Men Social Club defeated Wolves 4 - 2. Social Club got goals from Giniko Butterfield, Ryan Parris , Ezekiel Lewis and an own goal, while Wolves goals came from Kyle Brangman and Tory Davis.
Hamilton Parish 4 Ireland Rangers 1
Hamilton Parish defeated Ireland Rangers 4 – 1 at the Southampton Oval. Hamilton Parish got two goals apiece from Shayne Hollis and Jordan Outerbridge, Ireland Rangers lone strike came from Shamar Gomes.
PREMIER DIVISION

Devonshire Cougars 5 Somerset Eagles 1
At the Devonshire Recreation Club, the Devonshire Cougars came from behind to defeat the Somerset Eagles 5 – 1 in from of the Premier of Bermuda.
After Kadeem Abraham gave the Somerset Eagles the lead, the Devonshire Cougars got two goals from Drewonde Bascome and single strikes from Zari Simmons, Lejuan Simmons, and Jasekani Wade.
North Village Rams 2 Devonshire Colts 1
At Bernard's Park, the North Village Rams edged the Devonshire Colts 2 – 1 to remain unbeaten in the league.
Chermal Henry gave the Devonshire Colts the lead in the 30th minute, but Rai Simons scored in the 58th and 63rd minutes to earn the North Village Rams the win.
Southampton Rangers 0 St. George's Colts 1
At the Southampton Oval, the St. George's Colts edged the Southampton Rangers 1 – 0. St. George's got the lone goal of the game from Jahron Dickinson.
Robin Hood 2 Somerset Trojans 0 - LIVE
Robin Hood took the lead early in this match with an Aaron Nelson goal. Jaylon Bather doubled the lead for Robin Hood in the first half.