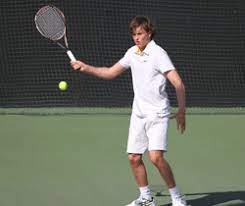 Jack Keyes
IslandStats.com
The 2023 Deloite Open Tennis drew to an exciting conclusion at the Pomander Gate Tennis & Pickleball Club.
In spite of a waterlogged initial few days - indicative of the past month on the island - more than 160 participants took to the courts at the Paget club to battle for supremacy in a host of categories.
Most notably on the tennis side, Jack Keyes upstaged top Bermuda player Tariq Simons in a methodical victory, winning 6-4, 6-4. Shelby Madeiros reigned supreme on the womenís side, defeating Victoria Stephens in convincing fashion, 6-0, 6-2.
A full list of tennis event winners:

Menís A Singles
Winner: Jack Keyes | Runner up: Tariq Simons
Menís A Doubles
Winners: David Thomas/Tariq Simons | Runners up: Denzel Hollis/Hugh Seymour
Menís B Singles
Winner: Numair Khan / Runner up: Rob De Bekker
Menís B Doubles
Winners: Tobiah Goodchild/Tristan Petit | Runners up: Jaden Jones/Jadon Spriggs
Mixed Doubles
Winners: Tariq Simons/Shelby Madeiros | Runners up: David Thomas/Victoria Stephens
Women's Open Singles
Winner: Shelby Madeiros | Runner up: Victoria Stephens
Menís Senior Singles
Winner: Gunther Gerber / Runner up: Simon Benedek