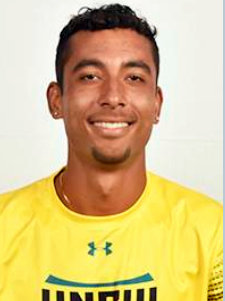 Reigning Colonial Athletic Association Rookie of the Year Harold Huens battled through severe cramping to edge Presbyterian's Max Benson in three sets and lift Trey Mallory and his UNC Wilmington Men's Tennis teammates to a 4 – 3 victory, in the Men's Tennis home opener late Sunday at the UNCW Courts.
Mallory also needed three sets in the 6 Singles spot, before defeating Teo Cariov 3-6, 6-1, 6-1.
Playing in the number 3 Doubles Spot Mallory and Drew Broadstreet were level at 6 – 6 with Cariov and David Mamalat when the competition ended.